MANILA, Philippines – The August 2023 Criminologist Licensure Exam (CLE) results, including the complete board list of passers, top 10 examinees and overall performance of schools are released by the Professional Regulation Commission (PRC) Board of Criminology in fourteen (14) working days after the last day of exams.
Update September 18, 2023: Results are out! As announced, 5,743 out of 17,576 (32.68%) examinees passed the August 2023 CLE. "The results of examination with respect to three (3) examinees were withheld pending final determination of their liabilities under the rules and regulations governing licensure examinations."
The Criminology board exam was conducted on August 25-27, 2023, at several testing centers located at NCR, Baguio, Butuan, Cagayan de Oro, Calapan (Oriental Mindoro), Cebu, Davao, Iloilo, Koronadal, Legazpi, Lucena, Pagadian, San Fernando (Pampanga), Tacloban, Tuguegarao, Zamboanga, Antique, Bacolod, Bohol, Cauayan (Isabela), Dumaguete, Ilocos Norte, Ilocos Sur, Kidapawan, Occidental Mindoro, Naga, and Palawan, Valencia and in the Municipality of Rosales, and Bayambang (Pangasinan).
CLE 2023 Related Results
Roll of Successful Examinees in the
CRIMINOLOGIST LICENSURE EXAMINATION
Held on August 25-27, 2023
Released on September 18, 2023
Follow us on our Facebook and Twitter pages for updates.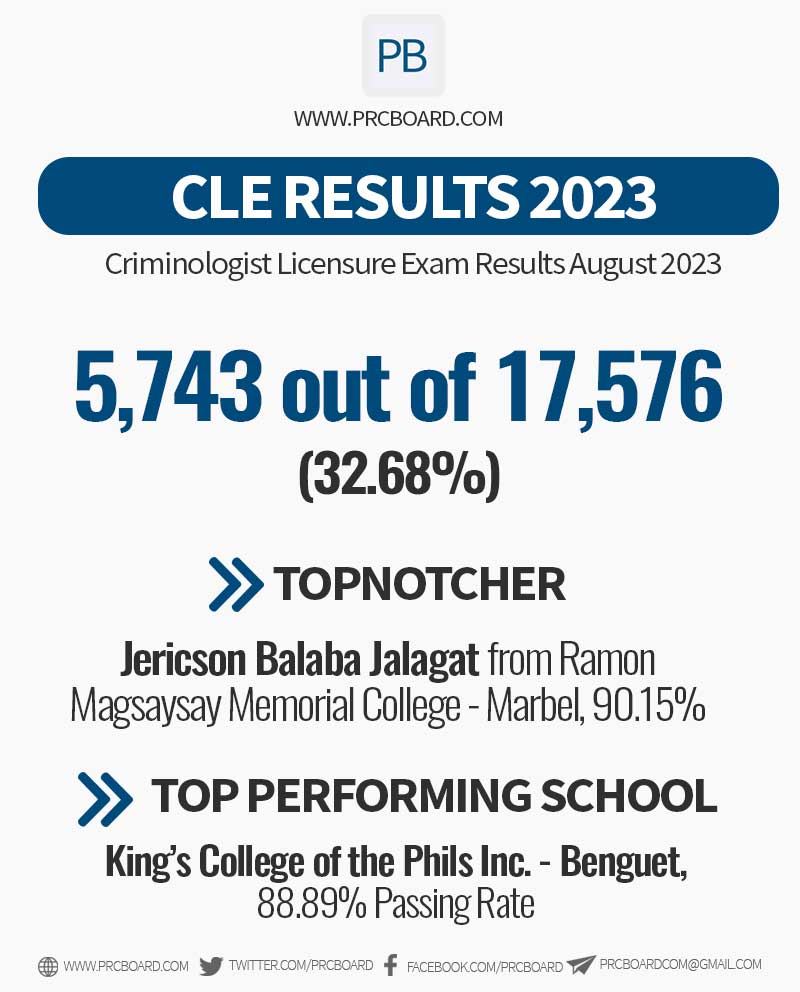 The Board of Criminology Chairman, Hon. Ramil G. Gabao, and its members, Hon. Lani T. Palmones, and Hon. Warren M. Corpuz, headed the licensure exams.
Release of Results
According to PRC Resolution No. 1589 series of 2022, entitled "Schedule of the Licensure Exam for the Year 2023", the August 2023 criminologist licensure exam results will be released on or before September 29, 2023. We advise everyone to bookmark this page and follow us on our social media channels for the freshest updates on CLE results 2023.
Meanwhile, the PRC may also release the results earlier or later than the estimated date without prior notice.
Schedule of Registration
The schedule of online appointments for issuance of Professional ID and Certificate of Registration for the new Criminologists will be held on the following date(s).
Date(s) of Registration: November 3, November 6 – 10 and November 13 – 15, 2023
Initial registrants are advised to register online via the PRC official website https://online.prc.gov.ph/ and follow the steps in online registration. Here are the registration requirements:
Notice of Admission/NOA (for identification purposes only)
Duly accomplished Oath Form or Panunumpa ng Propesyonal
Two (2) pieces of passport-sized ID photos on a white background with a complete name tag
Two (2) sets of documentary stamp
One (1) piece short brown envelope
PRC added that successful examinees should personally register and sign in to the Roster of Registered Professionals.
Verification of Rating
The verification of ratings and test results for the Criminologist licensure exams given by the PRC Board of Criminology will be available online a few working days after the posting of results.
Successful takers can refer to the PRC official website and use the Verification Page to know their board examination passing rate.
As posted, a passer shall only provide the exam name, the date of examination, the application number, first name and last name, and the birth date.
Oath-Taking Ceremonies
All successful examinees interested in attending the face-to-face mass oath-taking shall register no later than 12:00 NN of the day before the date of the oath-taking at http://online.prc.gov.ph to confirm their attendance.
Further, inductees shall bring ANY of the following on the day of the oath-taking:
Vaccination Card
Negative RT-PCR results took within 48 hours before the oath-taking
Inductees are advised to register and confirm their attendance in the regions where they took their licensure examination and intend to register as professionals.
The details and exact date(s) of whether the oath-taking will be conducted face-to-face or virtual/online will be provided here or on our FB page.
Coverage of Criminologist Board Exams
The August 2023 Criminology licensure exam covered the following topics:
Criminal Jurisprudence, Procedure, And Evidence (criminal law book I, criminal law book II; criminal procedure, evidence, and court testimony)
Law Enforcement Administration (police organization and administration with police planning, industrial security administration, police patrol operations with police communication system, police intelligence, police personnel, and records management, comparative police system)
Criminalistics (personal identification, police photography, forensic ballistics, questioned documents examination, polygraph – lie detection, legal medicine)
Crime Detection And Investigation (fundamentals of criminal investigation, traffic management, accident investigation, special crime investigation, organized crime investigation, drug education, and vice control, fire technology, and arson investigation)
Sociology of Crimes and Ethics (introduction to criminology and psychology of crimes, Philippine criminal justice system, ethics and values, juvenile delinquency, human behavior, and crisis management, and criminological research and statistics)
Correctional Administration (institutional corrections, non-institutional corrections)
2023 Criminology Licensure Exam Schedule
Below is the 2023 Criminology Board exam schedule, including the opening and deadline for processing.
| Schedule | Dates of Application |
| --- | --- |
| April 3-5, 2023 | December 16, 2022 – February 16, 2023 |
| August 25-27, 2023 | May 10 – July 10, 2023 |
Criminology Board Exams Summary (Stats)
The criminology board exam is one of the programs with many examinees conducted by the PRC.
In April 2023, 4,139 out of 13,000 (31.84%) hurdled the exams. Kenneth Olbita Dela Torre from Naga College Foundation ranked first in the exams, garnering 89.00% rating, followed by Christine Jewel Santiago Ronda from Bulacan State University – Malolos, 88.80%. Cagayan De Oro College was the top-performing school school, with 87.06%.
In December 2022, 11,098 out of 33,489 (33.14%) examinees passed. Narcilisa Ponase Talipnao from the University of Baguio topped the exams, followed by Daffodil Gayle Labarite Bautista from Ramon Magsaysay Memorial Colleges, having 90.95%. Tarlac State University was the top-performing school, having a 100% passing rate.
12,698 out of 41,913 (30.30%) examinees hurdled the June 2022 criminology board exams. The CLE results were released twenty-nine (29) working days after the exams. Lyen Carel Togonan Garcia from the University of Mindanao – Davao City ranked first in the exams, earning 90.70%, and Arianne Patagnan Supat from Naval State University, 90.30%. University of the Cordilleras was the top-performing school, having a 94.37% rating.
In the December 2021 exams, 11,610 out of 33,983 (34.16%) examinees successfully passed. Brenyl Doning Abilla from the University of Mindanao–Tagum ranked first in the exams, garnering a rating of 90.75%, followed by Benjamin Elegores Rinabor from Lake Lanao College, Inc., having 89.55. King's College of Philippines Incorporated – Benguet was the top-performing school, having a 98.97% overall passing rate.
During the November 2019 CLE, 19,191 out of 43,512 examinees passed. Fahadale Saripada Abbas from John Paul II College ranked first in the exams, garnering a rating of 91.20%, followed by John Patrick Aguado Privado from Eulogio (Amang) Rodriguez Institute of Science and Technology, having 90.75%. Cavite State University was a top-performing school with an overall passing rate of 98.78%.
In the CLE held in June 2019, 7,998 out of 20,797 (38.46%) examinees passed. John Bonrev Roi Villasin Rodas from Manuel S. Enverga University Foundation – Lucena City ranked first in the exams, garnering a rating of 90.50%, followed by Alben Deposa Ponso from Davao Oriental State College of Science and Technology having 90.10%, and Rosanie Galve Bulacja from Bago City College garnering 89.95%. University of the Cordilleras (UC) was the top performing school, having all its examinees passed, followed by Lipa City Colleges, having an 87.27% overall passing rate.
Here is the summary of results for CLE exams in previous years:
| Month of Exam | No. of Examinees | No. of Passers | Passing Rate (%) |
| --- | --- | --- | --- |
| April 2023 | 13,000 | 4,139 | 31.84% |
| December 2022 | 33,489 | 11,098 | 33.14% |
| June 2022 | 41,913 | 12,698 | 30.30% |
| December 2021 | 33,983 | 11,610 | 34.16% |
| November 2019 | 43,512 | 19,191 | 44.11% |
| June 2019 | 20,797 | 7,998 | 38.46% |
| December 2018 | 41,341 | 14,324 | 34.65% |
| June 2018 | 21,894 | 7,307 | 33.37% |
| December 2017 | 36,516 | 13,025 | 35.67% |
| June 2017 | 20,819 | 5,202 | 24.99% |
Updates
For clarifications, PRC advised to email them through the Licensure Exam Division at the below contacts:
We advise our readers to visit the PRC official website to receive fast and reliable news and announcements regarding the Criminology board exams for 2023.
If you have comments/reactions about this article, you can share them in the comment section below.