The May 2022 Civil Engineer (CE) board results including the complete list of passers, top 10 examinees and overall performance of schools are expected to be released by the Professional Regulation Commission (PRC) Board of Civil Engineering in five (5) working days after the last day of exams.
PRC announces that 5,836 out of 13,781 successfully passed the May 2022 Civil Engineering licensure exams. "The result of examination with respect to one (1) examinee was withheld as per Board Resolution No. 03 dated May 11, 2022 and one (1) examinee was withheld pending final determination of his liabilities under the rules and regulations governing licensure examinations."
SEE ALSO: List of Passers (A-F, G-L, M-R, S-Z), Topnotchers in CE Board Exams, Top Performing Schools
The CE board exam was conducted on May 1-2, 2022 at testing centers located in NCR, Baguio, Cagayan de Oro, Cebu, Davao, Iloilo, Koronadal, Legaspi, Lucena, Pagadian, Pampanga, Rosales, Tacloban, Tuguegarao and Zamboanga by the Board of Civil Engineering headed by Engr. Praxedes P. Bernardo, Chairman and its members, Engr. Pericles P. Dakay and Engr. Romeo A. Estañero.
Roll of Successful Examinees in the
CIVIL ENGINEER LICENSURE EXAMINATION
Held on May 1-2, 2022
Released on May 11, 2022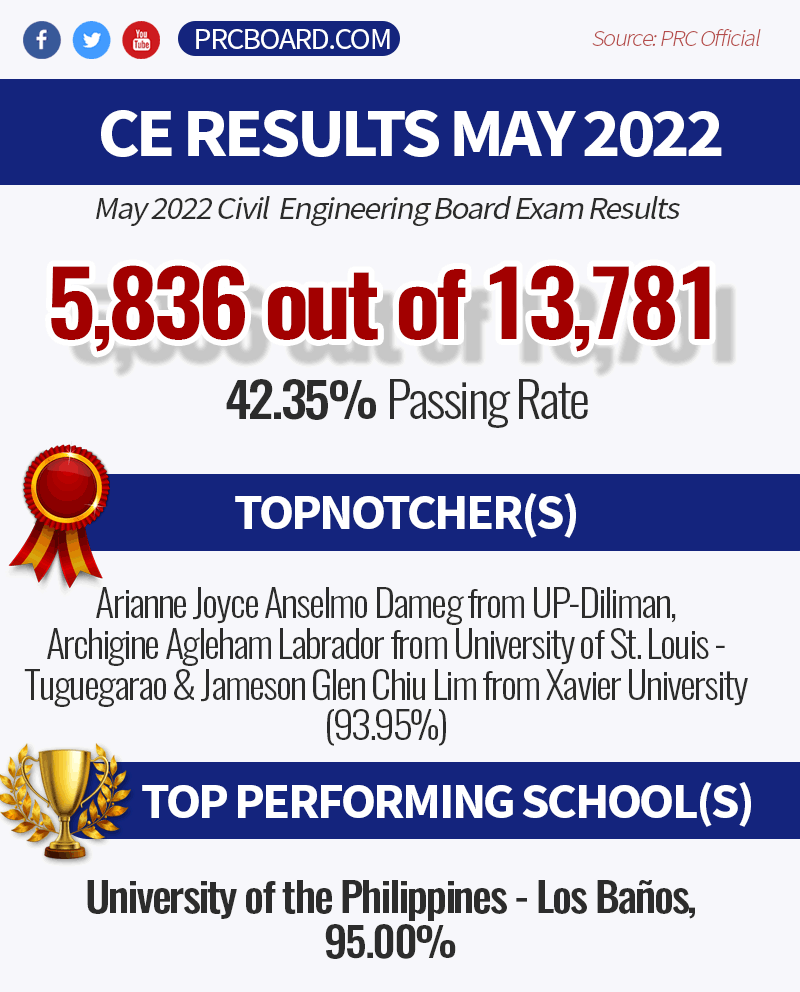 Follow us at our Facebook and Twitter pages for updates.
Release of Results
The May 2022 Civil Engineering (CE) board exam results were released on May 11, 2022, as stated as well at PRC Resolution No. 1439 series of 2021 entitled "Schedule of the Licensure Exam for the Year 2022".
Meanwhile, CE results May 2022 may also be out earlier or later than the target release date without prior notice. Stand by and bookmark this page to receive updates.
Registration
The schedule of online appointment for issuance of Professional ID and Certificate of Registration for the new Civil Engineers will be held on the following date(s).
Date(s) of Registration: June 8-10, June 13-17 and June 20-21, 2022
Initial registrants are advised to register online via PRC official website via https://online.prc.gov.ph/ and follow the steps in online registration. Here are the registration requirements:
Notice of Admission/NOA (for identification purposes only)
Duly accomplished Oath Form or Panunumpa ng Propesyonal
Two (2) pieces of passport-sized ID photos in white background and with complete name tag
Two (2) sets of documentary stamp
One (1) piece short brown envelope
PRC added that successful examinees shall personally register and sign in the Roster of Registered Professionals.
Oath-Taking
The oath-taking ceremony for the newly licensed Civil Engineers will be done online, now referred as the "e-oath". The application system for the e-oath can be accessed online via PRC dedicated portal via https://online.prc.gov.ph/ and select "e-OATH" as transaction.
Inductees are required to print "OATH OF PROFESSIONAL" form that is downloadable at the PRC Online Services.
The date of the oath taking ceremonies will be provided days after the release of results.
Coverage of Exams
Mathematics, Surveying and Transportation Engineering (algebra, plane and spherical trigonometry, analytics, descriptive and solid geometry, differential and integral calculus, highway and railroad surveying, plane topographic and hydrographic surveying, advanced surveying, design and construction of highways and railroads, piers, ports and wharves)
Hydraulics and Geotechnical Engineering (fluid properties, hydrostatic pressures, fluid flow, buoyancy and flotation, relative equilibrium of liquids, hydrodynamics, water supply soil properties, soil classification, fluid through soil mass, stresses in soil mass, soil strength and tests, bearing capacity, compaction, consolidation and settlement, lateral earth pressures and slope stability)
Structural Engineering and Construction (engineering mechanics, strength of materials, theory of structures, analysis and design of concrete, steel, timber structures and foundation with the application of the governing codes of practice)
Previous Exams
Month of Exam
No. of Examinees
No. of Passers
Passing Rate (%)
Released After
(working days)
November 2021
6,474
2,374
36.67%
8
November 2019
15,075
6,510
43.18%
4
May 2019
8,855
3,372
38.08%
4
November 2018
13,887
6,262
45.09%
4
May 2018
7,599
2,738
36.03%
4
November 2017
12,447
6,075
48.81%
4
Updates
For clarification, PRC advised to email them through the Licensure Exam Division at [email protected] and [email protected]
To receive fast and reliable news and announcements regarding the May 2022 Civil Engineer board exams, we advise our readers to visit PRC official website. Likewise, if you have comments/reactions about this article, feel free to share it at the comment section below.