MANILA, Philippines – The August 2023 Medical Technologist (MedTech) Licensure Exam (MTLE) results, including the complete board list of passers, top 10 examinees, and overall performance of schools, are released by the Professional Regulation Commission (PRC) Board of Medical Technology in four (4) working days after the last day of exams.
As announced, 3,982 out of 5,401 (73.73%) successfully passed the exams.
The MedTech board exam was conducted on August 12-13, 2023, at testing centers located at NCR, Baguio, Cagayan de Oro, Calapan, Cebu, Davao, Iloilo, Koronadal, Legazpi, Lucena, Pagadian, Pampanga, Rosales, Tacloban, Tuguegarao, and Zamboanga. The licensure exams were headed by the Board of Medical Technology Chairman, Dr. Marilyn A. Cabal-Barza, and its member, Dr. Leila Lany M. Florento.
MTLE 2023 Related Results
Here are the August 2023 MedTech board exam results and list of passers as posted by the Professional Regulation Commission:
Roll of Successful Examinees in the
MEDICAL TECHNOLOGY LICENSURE EXAMINATION
Held on August 12-13, 2023
Released on August 17, 2023
Follow us on our Facebook and Twitter pages for updates.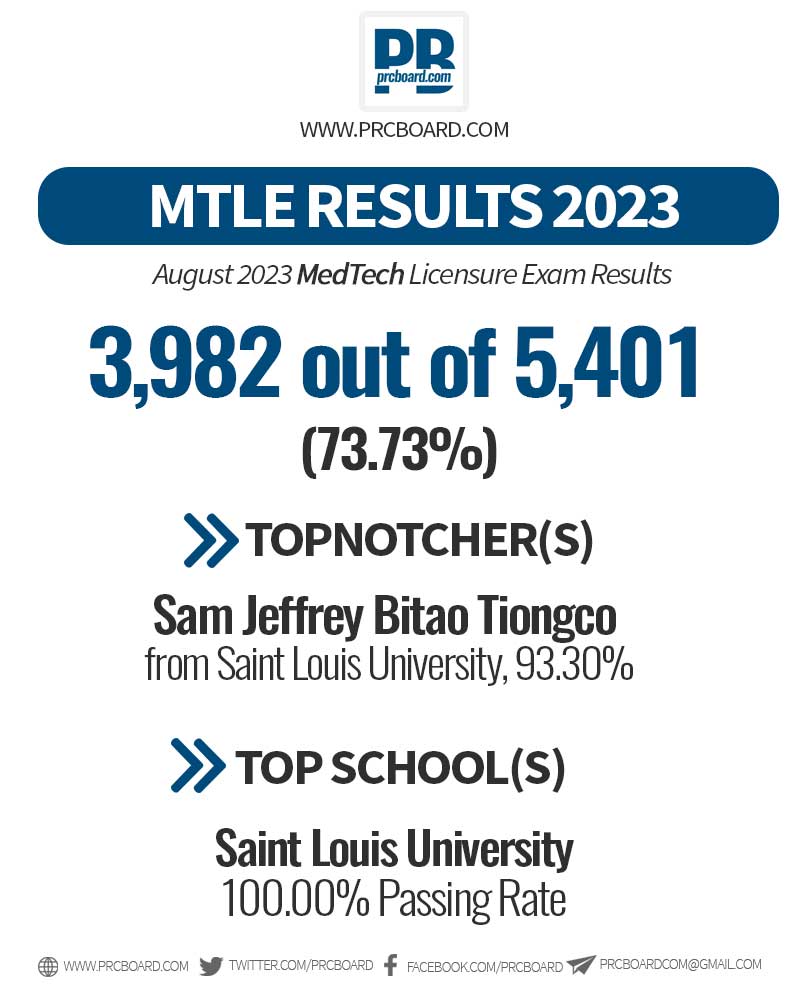 Release of Results
According to PRC Resolution No. 1589 series of 2022, entitled "Schedule of the Licensure Exam for the Year 2023", the August 2023 MedTech board exam results are expected to be released on August 25, 2023. We advise everyone to bookmark this page and follow us on our social media channels for the freshest updates on MTLE results 2023. Stay tuned, future RMTs!
Meanwhile, PRC may release the MedTech licensure exam results in August 2023, earlier or later than the estimated date, without prior notice.
Schedule of Registration
The schedule of online appointments for issuance of Professional ID and Certificate of Registration for the new Registered Medical Technologists will be held on the following date(s):
Date(s) of Registration: October 2 – 6, October 9 – 13 and October 16, 2023
Initial registrants are advised to register online via PRC official website https://online.prc.gov.ph/ and follow the steps in online registration. Here are the registration requirements:
Notice of Admission/NOA (for identification purposes only)
Duly accomplished Oath Form or Panunumpa ng Propesyonal
Two (2) pieces of passport-sized ID photos on white background with a complete name tag
Two (2) sets of documentary stamp
One (1) piece short brown envelope
PRC added that successful examinees should personally register and sign in to the Roster of Registered Professionals.
Verification of Rating
The verification of ratings and test results for the August 2023 MedTech licensure exams will be available online a few working days after the posting of results.
Successful takers can refer to PRC official website and use the Verification Page to know their board examination passing rate.
As posted, a passer shall only provide the exam name, the date of examination, the application number, first name, last name, and birth date.
Oath-Taking
All successful examinees interested in attending the face-to-face mass oath-taking shall register no later than 12:00 NN of the day before the date of the oath-taking at http://online.prc.gov.ph to confirm their attendance.
Further, inductees shall bring ANY of the following on the day of the oath-taking:
Vaccination Card
Negative RT-PCR results took within 48 hours before the oath-taking
Inductees are advised to register and confirm their attendance in the regions where they took their licensure examination and intend to register as professionals.
The details and exact date(s) of whether the oath-taking will be conducted face-to-face or virtual/online will be provided here or on our FB page.
Coverage of Exams
The August 2023 MedTech licensure exam covered the following topics:
Clinical Chemistry
Microbiology and Parasitology
Clinical Microscopy
Hematology
Blood Banking and Serology
Hispathologic Techniques, Cytotechnology, Medical Technology Laws, Related Laws and its Implementing Rules and Code of Ethics
2023 MedTech Licensure Exam Schedule
Shown below is the schedule of the 2023 Medical Technology licensure exams:
| Date of Exam | Start of Application | Deadline of Application |
| --- | --- | --- |
| March 8-9, 2023 | December 8, 2022 | February 9, 2023 |
| August 12-13, 2023 | May 12, 2023 | July 13, 2023 |
MedTech Board Exams Summary (Stats)
The MedTech board exam is one of the programs with an average number of examinees conducted by PRC.
In the latest MTLE held on March 2023, 4,714 out of 6,165 (76.46%) examinees passed. Sidrey Mel Aldeguer Flores from Colegio San Agustin – Bacolod City ranked first in the exams, garnering a rating of 92.10% followed by Nijell Tiu Potencioso and Khelly Mae Binondo Villarin, both from Velez College, 91.90%. Velez College and Cebu Doctors University were the top-performing schools, with 100.00% passing rate.
On August 2022, 1,796 out of 3,582 (47.63%) passed the exams. Kharam Baricaua Molbog and Karen Dale Lao Tan, both from the University of Santo Tomas, ranked first and second, having 91.90% and 91.30% ratings, respectively.
On March 2022, 1,268 out of 2,752 (46.08%) examinees passed. Audrey Nicole Dumlao Tape from Far Eastern University – Manila ranked first in the exams garnering a rating of 90.20%, followed by Dianne Rose Autentico Avenido from Southwestern University, 88.60%. The University of Baguio was hailed top-performing school having 82.18% overall passing rate.
During January 2022 exams, 1,307 out of 2,619 examinees hurdled the exams. Kyle Patrick Rivera Magistrado from the University of Santo Tomas ranked first in the exams garnering a rating of 90.40%, followed by Natalie Regina Kwan Cu from the University of Santo Tomas, having 89.30%. Saint Louis University was the top-performing school having 93.98%.
On March 2021, 1,921 out of 3,251 examinees passed. Felix Jayson Magleo Vegella from Virgen Milagrosa University Foundation ranked first in the exams garnering a rating of 91.00%, followed by Rocelle Anne Ramos Leonardo from Far Eastern University Manila and Clarice Anne Castroverde Medrano having 88.30%. Saint Louis University was the top-performing school having a 98.01% overall passing rate.
Here is the summary of results for MTLE results in previous years:
| Month of Exam | No. of Examinees | No. of Passers | Passing Rate (%) |
| --- | --- | --- | --- |
| March 2023 | 6,165 | 4,714 | 76.46% |
| August 2022 | 3,582 | 1,796 | 47.63% |
| March 2022 | 2,752 | 1,268 | 46.08% |
| January 2022 | 2,619 | 1,307 | 49.90% |
| March 2021 | 3,251 | 1,921 | 59.09% |
| January 2021 | 2,835 | 1,919 | 67.69% |
| September 2019 | 6,453 | 4,743 | 73.50% |
| March 2019 | 4,092 | 2,801 | 68.45% |
| September 2018 | 6,070 | 4,718 | 77.73% |
Updates
For clarifications, PRC advised to email them through the Licensure Exam Division at the below contacts:
Visit the PRC official website for updates on the MedTech board exam results 2023.
If you have comments/reactions about this article, feel free to share them in the comment section below.