MANILA – The August 2022 Civil Service Exam (CSE) Subprofessional Level passers in Bicol Region/ Region 5 are released by the Civil Service Commission (CSC) in 60 days after the eligibility exams.
The Career Service Examination – Pen and Paper Test (CSE-PPT) for Professional and Subprofessional levels are eligibility exams conducted by CSC twice a year to cater the growing number of individuals who wish to serve in the Philippine government.
The August 2022 Civil Service Exam was conducted on Sunday, August 7, 2022 at designated testing centers around the country to a total of 147,740 professional and subprofessional level examinees.
August 2022 CSE-PPT Results Summary
Region 5 Passers Subprofessional Level
August 17, 2022 Civil Service Exam – Pen & Paper Test (CSE-PPT)
Subprofessional Level – List of Passers
Civil Service Commission Regional Office No. 5 (Bicol Region)
Released on October 6, 2022
ABANES, MARY CRIS B.
ABERGOS, MIA LOURDES R.
ACOMPAÑADO, NICK M.
ADILLE, JOSHUA V.
ADORINO, BEATRICE A.
AGANAN, JOHN CHRIS P.
AGUILAR, WARREN F.
ALBO, AL FLORENCE V.
ALDEN, JESSICA JOYCE A.
ALTAREJOS, ARKIE D.
AMPARADO, MICAH SHAINAH C.
ARCILLA, ATHENA LOUISE P.
ARIMADO, VANESSA JOY A.
ARIOLA, MARTE EMMANUEL A.
ARRANCHADO, MARY CHRISTINE S.
ARRIOLA, JEFF JAMES B.
ASPE, SHYNE E.
ASUNCION, JILLIAN AGATHA J.
ATACADOR, GINA C.
ATANACIO, DANIEL B.
AVILLANO, GRACE E.
AZUR, MATTHEW M.
BABOL, LEMAR B.
BAGTAS, RACHELLE ANN T.
BALAYO, SUZETTE ROSE B.
BALBUENA, JAN ANTHONY G.
BANIA, LEJANIE A.
BARRA, REBECCA L.
BARRO, JONAH MAY FLOR G.
BAYANI, ACE ARNOLD P.
BAYBAYON, MA ALEXZA P.
BAÑAS, ROY JOSEPH LAWRENCE M.
BELMIN, SOSIE T.
BENOSA, INGRID MONIQUE S.
BERCES, JAYSAN FAYE P.
BERTIZ, JOHN ICON G.
BIAG, SHAIRA Z.
BITE, JERICHO F.
BOLAÑOS, BEVERLY D.
BOMBITA, JOBETH P.
BONGON, MARIA CYNTHIA R.
BONIFACIO, MAUREEN IRIS A.
BORJA, CHARLENE L.
BORNILLA, JOSHUA ANGELO B.
BORREL, ALBERT CHRYSLER B.
BORROMEO, NESTOR JAN KENNETH P.
BREBONERIA, EUSEUS B.
BRIOLA, MAY CHAN P.
BRUAL, ARVIE L.
BUEN, MELVIN REY C.
BUNCARAS, IVY B.
CADAG, GLADYS A.
CAMALLA, FAYE ANTONETTE B.
CARIZO, RAYMARK T.
CASPILLAN, MA SOPHIA A.
CATOY, JEFF ANDRE C.
CAÑEBA, CRISTINA MAY B.
CAÑETE, JOHANNA M.
CERDON, MARY FRANCE M.
CERILO, JAMES R.
CERNECHEZ, JOAN M.
CERVANTES, DARLENE A.
CHAVEZ, JANECEL F.
CIRUJANO, SHIELA M.
CLAVERIA, RYAN TIMOTHY O.
COLICO, MARVIN N.
DARO, DIONESIO L.
DAVID, JEROME L.
DAVID, ROBERTO V.
DAWIS, AIRA A.
DE LUMEN, JOAN MAY M.
DECIERRA, MERYNEL L.
DEDUQUE, HANNA MAE E.
DELA CRUZ, LUCY MONIQUE ANDREA B.
DELA TORRE, BERNADETH O.
DILAO, GYRA S.
DIO, BEATRIZ O.
DORADO, JESSICA MAE JOSEFA S.
DY, FRANCINNE R.
ESCOLANO, MARIA SOFIA IRENE L.
ESCOLANO, OLIVER GRANT C.
ESMERALDA, MARIA MARTHA B.
ESPINAS, MARYROSE D.
ESTEBAN, MARY FRANCE G.
ESTOLAS, RICO A.
FAJARDO, JOHANNES-MARCO F.
FORTES, JHUSWALYN A.
FRADES, JULIE ANN G.
FRANCISCO, AIZA R.
FRANCISCO, LEA D.
FURO, LETTY F.
FUTALAN, REDMIC M.
GABUTERO, JANNEA MAE J.
GABUTERO, JULIUS J.
GALVANTE, EISEN ROSE D.
GATDULA, GHIENHEL A.
GAVARRA, KIRK ALEC A.
GAYANES, EDEN ROSE G.
GENOVA, JONAH CATHRYN M.
GERNALE, JOHN MIKKO B.
GLORIANE, ANA SHEMA T.
GOJAR, MARIPAZ G.
GOPEZ, NESTOR E.
GUARDIAN, ERWIN O.
GUERRERO, ANGELIKA R.
GUEVARRA, GRACE JOY R.
HANTIC, ALEX C.
HATE, JESSICA M.
HEFTI, MARIA ANGELITA SOCORRO Z.
HEMADY, CHARA A.
HERNANDEZ, CHRISTINE A.
ILANO, NICOLE ANTONETTE B.
INCIONG, MARIA CATHERINE M.
JAMOT, GABRIEL AARON A.
JAYLO, FERDINAND ARIEL .
JERUS, CHRISTINE JOYCE S.
JOVE, YOGAD T.
KINGKING, NIÑO B.
KOHLER, PIA KATHARINA C.
LAAD, ARVEN M.
LALAGUNA, RONNIE A.
LAPITAN, KRISTA RIKKA O.
LATO, RONALIE L.
LATUMBO, MARIANNE D.
LAYLO, JOSHUA A.
LEONADO, MELVIN A.
LLAGAS, FRANKLIN S.
LLANTINO, MARY GRACE L.
LLASOS, KRISTINE D.
LONCERAS, JANELLE XAVIER .
LOPEZ, JANE ROSE V.
LOPEZ, JAY KEVIN P.
LOPEZ, JOANNE E.
LOR, KRYSCHELLE ANN B.
LUNTAO, ESTELA MARIE F.
LUZON, AIZA L.
MACALE, ROBINSON G.
MADERAZO, JAMES MATTHEW I.
MADRID, DARYL T.
MAGISTRADO, MICHAEL M.
MANALO, TRISTAN JOHN C.
MANTES, MIGUEL B.
MANUEL, VERONICA RACHEL .
MARCELO, ERNEST JOHN E.
MATA, DAN APRIL A.
MATEO, ALLYSSA MARIE T.
MENDOZA, MARICEL A.
MIRANDA, JONALY L.
MIRASOL, RODRIGO Y.
MODINO, IRENEO S.
MOLINA, RACHEL R.
MOLOD, DARELL T.
MONARES, JOHN CHRISTOPHER E.
MONARES, MARY CARMEL B.
MOTITA, MARK BRYAN C.
NACION, MARIA SOLEDAD C.
NASALITA, MARIPHINE R.
NAVAL, JEMILENE NA.
NAVALES, EIRA MARIE M.
NUÑEZ, MARY GRACE L.
OCO, MARK JONATHAN C.
OJO, APRIL M.
OLLET, REYCELL .
OPORTO, JOANNA MAE P.
OSEO, JUVY G.
PALACIO, KARISA MEL S.
PAMARANG, KAREN JOYCE Y.
PANAMBO, NILO R.
PANDES, SARALYN B.
PARCO, MARIAH MOIRA F.
PASA, GIECEL ANJE N.
PETALIO, KAREN C.
PILONEO, JAYSON A.
PLATILLA, CEDY F.
POSTRADO, HAZEL ANN S.
PUJOL, RACQUEL R.
QUIDES, KRIZA MAE NA.
QUINA, MARIA PAULA F.
RABINA, ROGELIO E.
RAMIZARES, MARIETON L.
RAMOS, GEREL MAE L.
REGORGO, REGINE F.
RENTON, RIZZA ANGELA P.
REYES, FRANCES LOUELA JOYCE C.
REYES, GERALDINE B.
RINGANATE, KIRSTEN JOY M.
ROBEDILLO, BYRON JOHN M.
RODAVIA, GIRLIE O.
RODULFO, ALISSA DENICE C.
ROMERO, ANGELICA M.
SALES, IVY L.
SAMAR, LINDLEY JAY C.
SANTOS, JENIFER O.
SARMIENTO, AILEEN L.
SASUTONA, JHUMAR H.
SEBASTIAN, RAELA ALMA L.
SILOS, JOBERT Q.
SOREBILLO, MARIA JOYLHE-ANN N.
STA ANA, CARMEL MARIE C.
STA ANA, IRA COLEEN A.
TABLATE, MARICEL V.
TAGUM, MAE ANN LL.
TARROQUIN, PATRICK .
TATEL, MICHAEL V.
TATING, ROSCHELLE A.
TEL, MERIAM V.
TENGCO, KEN M.
TERNIDA, ALJOHN S.
TIOXON, JONILIE C.
TOMAGAN, LENETTE MARIE B.
TORALDE, JANN JERSON C.
TORRES, ANTONIO S.
TUBALLAS, MELODY GRACE P.
TUGANO, MOISES MIGUEL G.
TUTANES, MARIZ C.
URBANO, EVELYN B.
VALEZA, JASON .
VASQUEZ, KARL JORDAN L.
VERAS, JOHNAS J.
VIBAR, GLAIZA G.
VIDA, JEOFFREY T.
VILLABROSA, JULIUS CEZAR G.
VILLAGRACIA, MILANIE M.
VILLALUNA, TRISTAN C.
VILLALUZ, LEONARD V.
VILLAMOR, LEANCEL MAE M.
VIÑAS, ANNABEL MAE D.
WATIWAT, EMILY T.
ZAGADA, MARIA ANTONETTE M.
ZANTUA, MARICAR M.
ZUÑIGA, MECHAEL JOSEPH B.
Follow us at our Facebook and Twitter pages for updates.
When is the release of CSE August 2022 results?
According to the CSC's examinees guide in taking eligibility tests through Examination Announcement No. 11 series of 2022, the target release of August 7, 2022 Civil Service Exam (Professional and Subprofessional) results will be within sixty (60) days after the exams. Stand by on or before October 6, 2022.
Meanwhile, official results of Civil Service exams may also be released earlier or later than the target date without prior notice. CSC is likewise disclosing the exact release date of results a week before the target release date. We advise to keep tuning in for updates.
Verification of Rating through OCSERGS/COE
The Civil Service Exam rating can be generated in approximately fifteen (15) days after the posting of official results.
It can accessed using the Online Civil Service Exam Result Generation System (OCSERGS).
Those who pass the exams should verify with the CSC Regional Office the availability of Certification of Eligibility (CoE). Representatives are not allowed to claim the CoE.
Claiming of certification will be available approximately thirty (30) days after the posting of results.
Examination Coverage
The August 2022 CSE-PPT subprofessional level covered the following topics:
Numerical Ability (Basic Operations; Word Problems)
Clerical Ability (Filing; Spelling)
Verbal Ability (Grammar and Correct Usage; Vocabulary; Paragraph Organization; Reading Comprehension)
The general information items in Philippine Constitution; Code of Conduct and Ethical Standards for Public Officials and Employees (R.A. 6713); Peace and Human Rights Issues and Concepts; and Environment Management and Protection are also included for both professional and sub-professional exams.
Passing Score
The examinee shall obtain 80.00% general rating to pass the examination.
2022 CSE-PPT Schedule
The CSE-PPT for the year 2022 will be held on March 2022, July 2022 and August 2022. Here are the details of applications:
Date of Exam
Start of Application
Deadline of Application
March 13, 2022
(also includes the reset of July 18, 2021 CSE-PPT)
January 12, 2022
January 27, 2022
June 19, 2022
April 12, 2022
April 28, 2022
August 7, 2022
June 2, 2022
June 16, 2022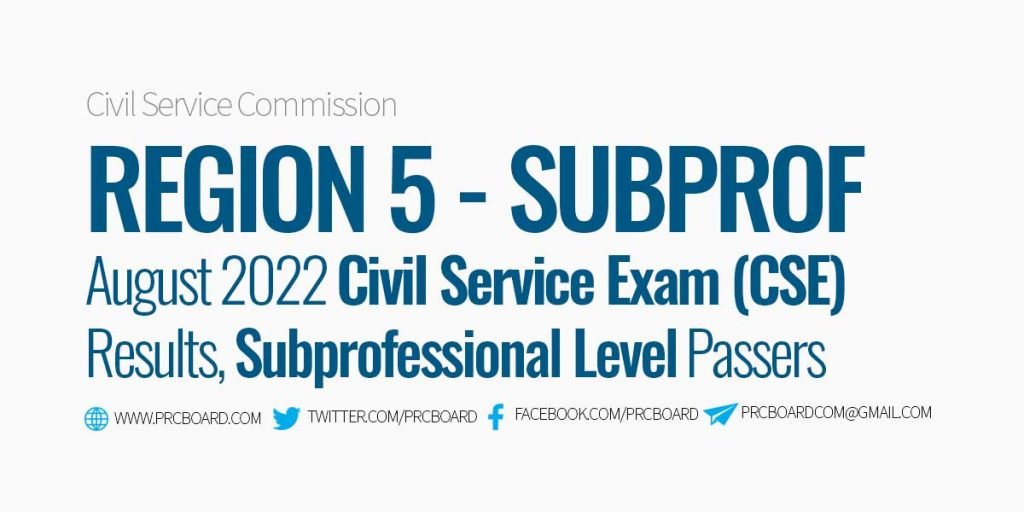 Updates
To receive regular updates about August 2022 Civil Service Exam results as well as other related announcements, we advise our visitors to bookmark this page, visit PRC official website, follow us at our social media pages via Facebook and Twitter or join the members discussions at our Facebook Group.
If you have comments/reactions about this article, feel free to share it at the comment section below.