LET 2022 SECONDARY TOPNOTCHERS – The list of the top 10 passers in the October 2022 Licensure Exam for Teachers (LET) secondary level are posted at this website as the Professional Regulation Commission (PRC) Board of Professional Teachers releases the full results in fifty-six (56) working days after the administration of exams.
The Licensure Exam for Teachers was conducted on October 2, 2022 at several testing centers located at Manila, Antique, Bacolod, Baguio, Bohol, Butuan, Cagayan de Oro, Cauayan, Catarman, Cebu, Davao, Digos, Dumaguete, Iloilo, Kidapawan, Koronadal, Legazpi, Lucena, Mati, Masbate, Occidental MIndoro, Oriental Mindoro, Pagadian, Palawan, Pangasinan, Romblon, Pampanga, Tacloban, Tagum, Tuguegarao, Virac, Zamboanga and Thailand.
The October 2022 LET Elementary and Secondary were headed by the Board of Professional Teachers, Dr. Rosita L. Navarro, Chairman; Dr. Paz I. Lucido, Vice Chairman; Dr. Paraluman R. Giron and Dr. Nora M. Uy, Members.
LET 2022 Related Results
PRC recognizes the top 10 examinees who garnered the highest examination ratings in any of its administered licensure exam. Shown below is the complete list of October 2022 LET Secondary Level top 10 examinees/ topnotchers including the school they're from as well as their rating. The list is courtesy of PRC.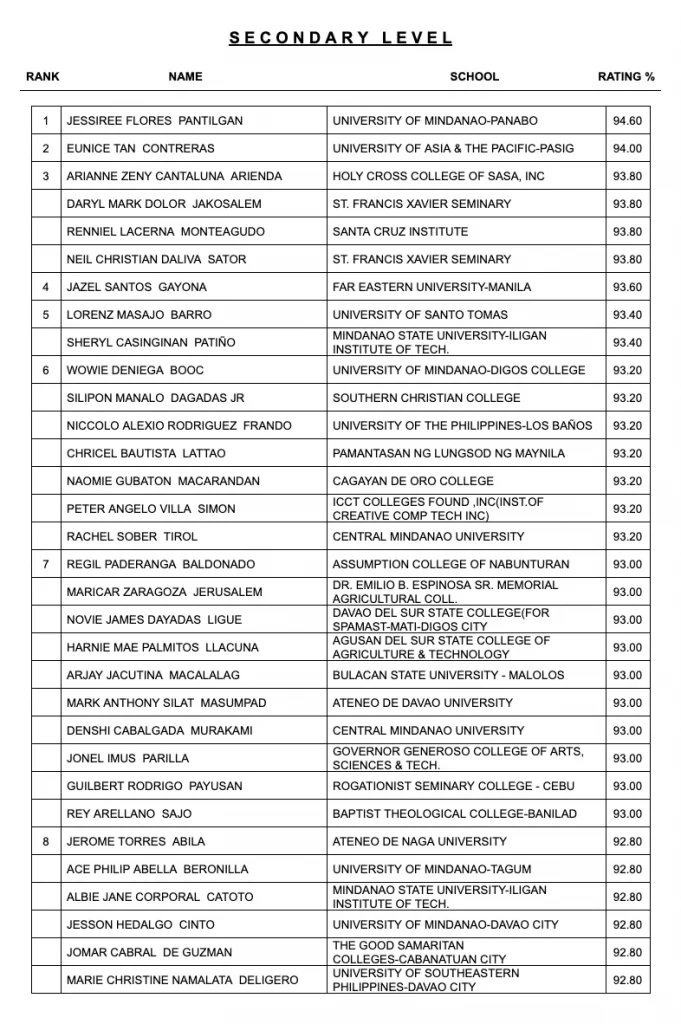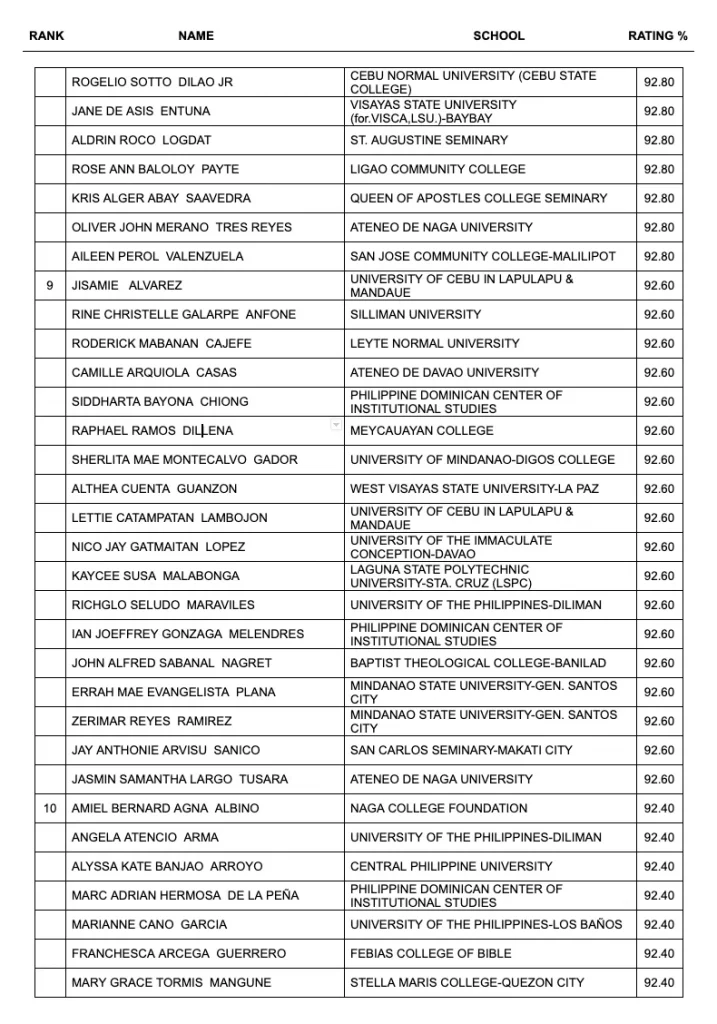 Follow us at our Facebook and Twitter pages for updates.
Release of Results
The October 2022 LET results including the complete Teachers board exam list of passers for elementary and secondary levels are expected to be released on December 9-19, 2022, 45-60 working days after the administration of exams, referenced to PRC Resolution No. 1439 series of 2021.
We also advise everyone to bookmark this page and follow us at our social media channels for the freshest updates regarding the LET results 2022.
Schedule of Registration
The schedule of online appointment for issuance of Professional ID and Certificate of Registration for the new Licensed Professional Teachers (LPTs) will be held on the following date(s):
Year 2023
February 16 – 17, February 20 – 24 and February 27 – 28
March 1 – 3 and March 6 – 7
March 8 – 10 and March 13 – 14
March 15 – 17 and March 20 – 24
March 27 – 31, April 3 – 4 and April 11 – 14
April 17 – 20 and April 24 – 28
Initial registrants are advised to register online via PRC official website via https://online.prc.gov.ph/ and follow the steps in online registration. Here are the registration requirements:
Notice of Admission/NOA (for identification purposes only)
Duly accomplished Oath Form or Panunumpa ng Propesyonal
Two (2) pieces of passport-sized ID photos in white background and with complete name tag
Two (2) sets of documentary stamp
One (1) piece short brown envelope
PRC added that successful examinees shall personally register and sign in the Roster of Registered Professionals.
Verification of Rating
The verification of ratings and test results for the licensure exam for teachers given by PRC Board of Professional Teachers will be available online few working days after the posting of results.
Successful takers can refer to PRC official website and use the Verification Page to know their board examination passing rate.
As posted, a passer shall only provide the exam name, the date of examination, the application number, first name and last name and the birth-date.
Previous Topnotchers
Here is the list of topnotchers (Top 1) in previous LET – Secondary:
| Month/Year | Name | School | Rating |
| --- | --- | --- | --- |
| June 2022 | Marvin Cabel Nillas | Compostella Valley State College | 94.00% |
| March 2022 | Kim Paulino Ravida | Southeastern Philippines – Davao City | 93.60% |
| January 2022 | Sean Bautista De Los Santos | National Teacher's College | 92.80% |
| September 2021 | Vincent Casona Bayawa | Cebu Normal University | 93.40% |
| September 2021 | Roslyn Vea Domingo Damasco | University of the Philippines – Diliman | 93.40% |
| September 2019 | Marlou Pugoy Manalo | Philippine Normal University – Mindanao | 92.60% |
| March 2019 | Honey Gracielle Decosto Baclayo | University of Mindanao – Davao City | 93.40% |
| September 2018 | Francis Dave Perez Cabanting | University of Southeastern Philippines – Davao City | 92.80% |
| September 2018 | Samuel John Estenor Parreño | University of Mindanao – Digos College | 92.80% |
| March 2018 | Kier Araula Baugbog | Pamantasan ng Lungsod ng Valenzuela | 92.40% |
Questions?
For those who want to clarify something, PRC advised to email them through the Licensure Exam Division at below contacts:
To receive fast and reliable news and announcements regarding LET for 2022, we advise our readers to visit PRC official website.
If you have comments/reactions about this article, feel free to share it at the comment section below.
You may also follow us at our social media accounts via Facebook and Twitter.