MANILA, Philippines – The Professional Regulation Commission (PRC) Board of Fisheries Technology releases the list of room assignments for the October 2022 Fisheries Technologist Licensure Exam a few days before the exams.
The October 2022 Fisheries Technologist licensure exams will be conducted on October 6-7, 2022, at PRC testing centers in Metro Manila, Baguio, Cagayan de Oro, Cebu, Davao, Iloilo, Koronadal, Legaspi, Lucena, Tacloban, Tuguegarao, and Zamboanga.
The Board of Fisheries Technology is headed by its Chairman, Westly R. Rosario, and its member Catalino R. Dela Cruz.
Room Assignments for October 2022 FTLE
Examinees are advised to verify the room assignments through the links below or the notices and announcements posted on the PRC official website. Here is the list of room assignments for the October 2022 Fisheries Technologist licensure exams.
Examinees shall report before 5:30 in the morning on the said date because late comers will not be admitted.
Other Story
What to bring on the day of exams?
Here are the things to bring during the examination proper:
Notice of Admission
Official Receipt
Two (2) or more pencils
One (1) piece long brown envelope
One (1) piece long transparent/plastic envelope (for keeping your valuables and other allowed items)
Calculators with the following features only – addition, subtraction, multiplication, division, trigonometric function, logarithm and xy
Negative RT-PCR Test Results, if applicable, or Certificate of Quarantine or Certificate or copy of the Complete Vaccination Card for fully vaccinated examinees to the be submitted to the proctor on the examination day.
Fully Accomplished Forms/ Annex A & B – Download here…
What to wear on examination day?
Here are the specified dress codes from PRC:
For male examinees, white polo shirt with collar (without any seal, logo, or mark); decent pants or slacks
For female examinees, white blouse or shirt with collar (without any seal, logo, or mark); decent pants or slacks
Allowed and not allowed
Books, notes, review materials, and other printed materials containing coded information or formulas are not allowed.
Calculators which are programmable or with embedded functions especially CASIO FX991ES and CASIO FX-991ES plus.
Apple, Samsung and other smart watches, cellular phones, ear plugs, transmitters, portable computers, Bluetooth and other electronic devices which may be used for communication purposes are prohibited.
Bags of any kind are not allowed.
Board exams during the COVID-19 pandemic
The following precautionary health and safety guidelines shall be observed at all times during the conduct of the PRC licensure exams:
Wearing of face mask and face shield. Examinees are also required to bring alcohol-based sanitizers.
Examination personnel shall be provided with face mask, face shield and latex gloves.
Observe physical distancing by maintaining 1-meter distance from one another.
Body temperature will be checked using thermal scanner prior to entry at examination premises. Those with fever, colds or cough are not allowed to take the exams. Their payment will not be forfeited and can be used in the next licensure exam.
Examinees are advised to bring their food as they will not be allowed to exit the examination room during break time and lunch time.
Examinees shall sanitize before entering the examination room, after using the rest room and before distribution of test questionnaires.
PRC added that they will not be responsible of any lost personal belongings.
2022 Fisheries Technology Licensure Exam Schedule
Shown below is the schedule of the 2022 FTLE licensure exams:
| Date of Exam | Start of Application | Deadline of Application |
| --- | --- | --- |
| October 6-7, 2022 | July 6, 2022 | September 6, 2022 |
References
Program for Fisheries Technology board exams for October 2022 from PRC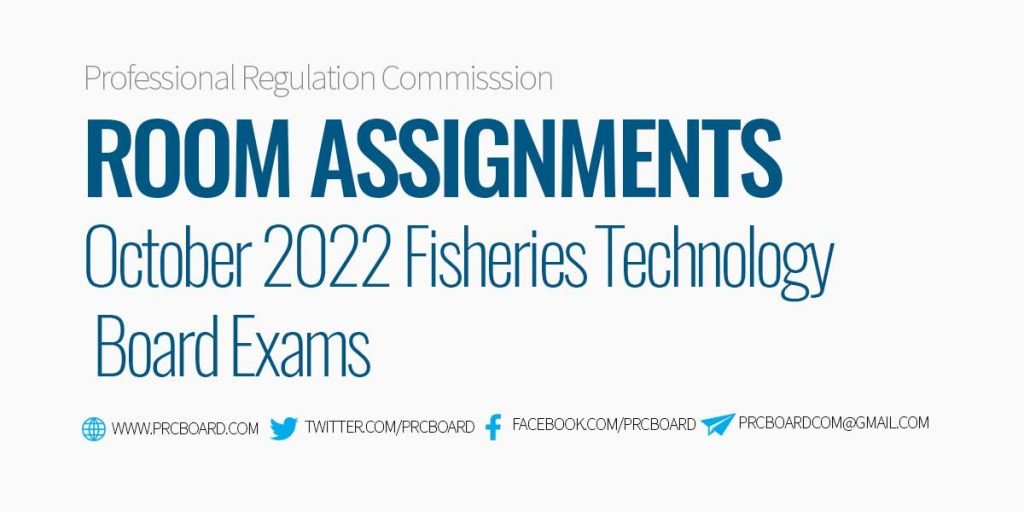 Questions?
For those who want to clarify something, PRC advised to email them through the Licensure Exam Division at below contacts:
To receive regular updates about October 2022 Fisheries Technology licensure exam and other related announcements, we advise our visitors to bookmark this page, visit PRC's official website, follow us on our social media pages via Facebook and Twitter, or join the member's discussions at our Facebook Group.
If you have comments/reactions about this article, feel free to share them in the comment section below.