LET RESULT 2023 – The September 2023 Licensure Exam for Teachers results for elementary and secondary levels including the complete board exam passers, top 10 examinees, and performance of schools are released by PRC Board of Professional Teachers in fifty-five (55) working days after the last day of exams.
PRC announced that 23,782 out of 50,593 (47.01%) elementary teachers and 53,995 out of 95,969 (56.26%) secondary teachers successfully passed the September 2023 LET. "The results of examination with respect to three (3) examinees were withheld for further validation of their submitted documents; and fourteen (14) examinees were withheld for final determination of their liabilities under the rules and regulations governing licensure examinations."
The Licensure Exam for Professional Teachers (LEPT) took place on September 24, 2023, at testing centers located in Bangkok, Thailand and at the 40 testing centers around the country. The Board of Professional Teachers is led by its Chairman, Dr. Rosita L. Navarro, Vice Chairman; Dr. Paz I. Lucido; and the members, Dr. Paraluman R. Giron and Dr. Nora M. Uy.
September 2023 LET Results Summary
Roll of Successful Examinees in the
LICENSURE EXAM FOR TEACHERS – ELEMENTARY
Held on September 24, 2023
Released on December 7, 2023
Roll of Successful Examinees in the
LICENSURE EXAM FOR TEACHERS – SECONDARY
Held on September 24, 2023
Released on December 7, 2023
Follow us on our Facebook and Twitter pages for updates.
Release of Results
As per PRC Resolution No. 1589, series of 2022, titled 'Schedule of the Licensure Exam for the Year 2023,' the September 2023 Licensure Exam for Teachers (LET) results are scheduled for release on December 7, 2023.
However, please note that the release date of the LET results may vary. In March 2023, results were out after forty-two (42) working days. We recommend bookmarking this page and following us on our social media channels for the most up-to-date result announcements.
Schedule of Registration
The schedule for online appointments to obtain the new Licensed Professional Teachers' Professional ID and Certificate of Registration will be held on these date(s):
| Start of Registration | Testing Center |
| --- | --- |
| January 8, 2024 | Iloilo; Pampanga; Bacolod, Negros Occidental; San Jose De Buenavista, Antique; Bangkok, Thailand |
| January 15, 2024 | Baguio; Rosales; Batac, Ilocos Norte; Bayambang, Pangasinan; Candon, Ilocos Sur |
| January 22, 2024 | Legazpi; Zamboanga; Masbate, Masbate; Virac, Catanduanes |
| January 29, 2024 | Lucena; Tuguegarao; Boac, Marinduque; Calapan, Oriental Mindoro; Cauayan, Isabela; Romblon, Romblon; San Jose, Occidental Mindoro; Sta. Cruz, Laguna |
| February 5, 2024 | Tacloban; Catarman, Northern Samar ; Puerto Princesa, Palawan |
| February 12, 2024 | Butuan; Cagayan de Oro; Oroquieta, Misamis Occidental; Valencia, Bukidnon |
| February 19, 2024 | Pagadian |
| February 26, 2024 | Davao; Koronadal; Digos, Davao Del Sur; General Santos, South Cotabato; Kidapawan, North Cotabato; Mati, Davao Oriental; Tagum, Davao Del Norte |
| March 4, 2024 | Cebu; Dumaguete, Negros Oriental; Tagbilaran, Bohol |
| March 13, 2024 | N. C. R. |
For initial registrants, the PRC advises online registration through the official PRC website at https://online.prc.gov.ph/. Follow these steps for online registration and ensure you have the following requirements ready:
Notice of Admission (NOA) – for identification purposes only
Completed Oath Form (Panunumpa ng Propesyonal)
Two (2) passport-sized ID photos on a white background, each with a complete name tag
Two (2) sets of documentary stamps
One (1) short brown envelope
PRC emphasizes that successful examinees must complete their registration in person and sign the Roster of Registered Professionals.
Verification of Rating
The verification of LET ratings and test results will be accessible online shortly after the results are posted.
Successful candidates can visit the official PRC website and utilize the Verification Page to check their ratings in the board examination.
As outlined, a passing candidate should provide the exam name, examination date, application number, first name, last name, and birthdate.
Oath-Taking
All successful examinees interested in attending the face-to-face mass oath-taking shall register no later than 12:00 NN of the day before the date of the oath-taking at http://online.prc.gov.ph to confirm their attendance.
Further, inductees shall bring ANY of the following on the day of the oath-taking:
Vaccination Card
Negative RT-PCR results took within 48 hours before the oath-taking
Inductees are advised to register and confirm their attendance in the regions where they took their licensure examination and intend to register as professionals.
The exact date(s) will be provided here once announced.
Coverage of Exams
The September 2023 licensure exam for Teachers (elementary and secondary) covered the following topics:
General Education (GenEd)
English – Study and Thinking Skills, Writing in the Discipline, Speech and Oral Communication, Philippine Literature and Master Works of the World
Filipino – Komunikasyon sa Akademikong Pilipino, Pagbasa at Pagsulat sa Panananaliksik at Masining na Pagpapahayag
Mathematics – Fundamentals of Math, Plane Geometry, Elementary Algebra, and Statistics and Probability
Science – Biological Science – General Biology, Physical Science with Earth Science
Social Sciences – Philippine Government New Constitution with Human Rights, Philippine History, Basic Economics, Taxation, Agrarian Reform, Society, Culture with Family Planning; Rizal and other Heroes, Philosophy of Man, Arts, General Psychology and Information and Communication Technology
Professional Education (ProfEd)
Teaching Profession, Social Dimensions of Education
Principles of Teaching, Educational Technology, and Curriculum Development
Facilitating Learning, Child and Adolescent Development
Assessment of Student Learning, Developmental Reading
Field Study and Practice Teaching
Specialized subjects were covered in the examinations for the specialization in English, Filipino, Biological Sciences, Physical Sciences, Mathematics, Social Studies and Social Sciences, Values Education, MAPEH, Agriculture and Fishery Arts and Technology, and Livelihood Education.
Previous Exams
Licensure Exam for Teachers is one of the programs with many examinees conducted by the PRC. Here is the summary of results for LET in previous years:
| Month/Year | Examinees | Passers | Passing Rate |
| --- | --- | --- | --- |
| March 2023 | 163,168 | 72,824 | 44.63% |
| October 2022 | 231,002 | 120,863 | 52.32% |
| June 2022 | 37,340 | 18,860 | 50.51% |
| March 2022 | 39,284 | 17,848 | 45.43% |
| January 2022 | 38,150 | 20,811 | 54.55% |
| September 2021 | 26,589 | 15,201 | 57.17% |
| September 2019 | 228,963 | 83,152 | 36.32% |
| March 2019 | 157,877 | 31,930 | 20.22% |
| September 2018 | 217,332 | 79,212 | 36.45% |
| March 2018 | 134,996 | 36,710 | 27.19% |
| September 2017 | 187,529 | 70,824 | 37.77% |
| March 2017 | 126,499 | 24,082 | 19.04% |
Updates
December 7, 2023 (11:30 AM): PRC official responded through an inquiry that the 2023 LET Results are targeted to be released today. To quote,
"Target release date is today. Thank you."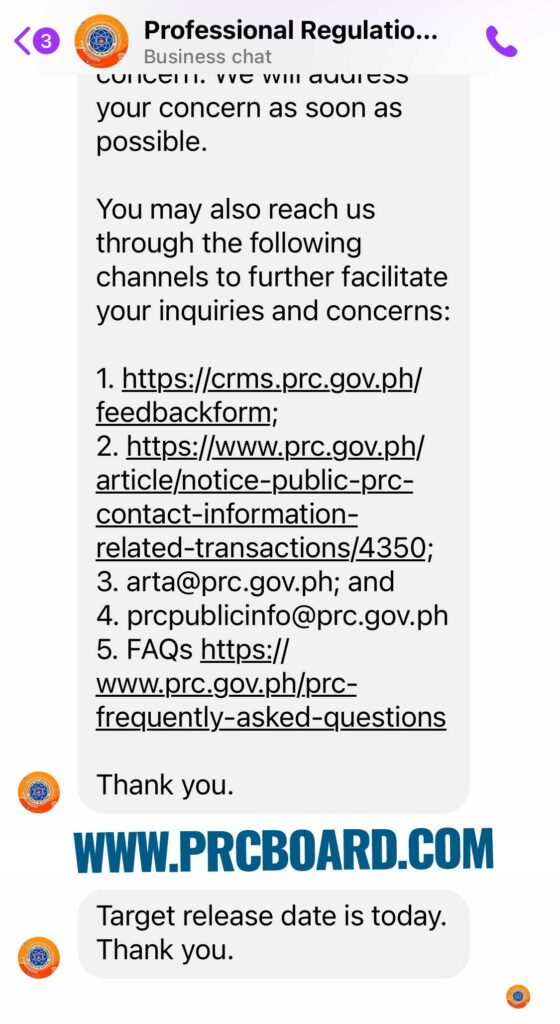 If you have any inquiries or need clarification, the PRC recommends reaching out to the Licensure Exam Division through the following email contacts:
For the latest and trustworthy updates and announcements regarding the teachers board exams in 2023, we encourage our readers to visit the official PRC website.
Should you have any comments or reactions related to this article, kindly share them in the comments section below.