MANILA, Philippines – The verification of rating for August 2022 Civil Service Exam (CSE) results for Professional and Subprofessional levels to both pass and failed examinees will be accessed through the Online Civil Service Examination Generation System (OCSERGS) fifteen (15) days after the posting of results.
OCSERGS/ Verification of Rating
Examinees can check the result of their exams through CSC's OCSERGS.
Go to http://erpo.csc.gov.ph/ocsergs/ (Copy the link exactly in your browser).
The examinee number is no longer needed. To check the rating, the examinee must provide the following information.
Applicant's Personal Information
Last Name (e.g., Dela Cruz)
First Name (e.g., Juan, Jr)
Middle Initial (e.g., L, or leave it blank if none)
Date of Birth (e.g. 04/22/1969)
Details of Examination
Date of Examination: (e.g. August 17, 2022)
Type of Examination (e.g. CSE-PPT Professional)
Place of Examination/ Region (e.g. CSC Central Office)
August 2022 CSE-PPT Results Summary
Claiming the Certification
Passers may apply for Certificate of Eligibility that is printed at security paper at cost. Meanwhile, the Commission advised to verify first the availability of the issuance of Certification on security paper before proceeding to the CSC Regional/Field Office to avoid inconvenience. Call them at this directory for inquiries.
The certification printed in security paper is preferred by government agencies as supporting document for application for employment, promotion and other important purposes.
CSC added that CSE-PPT passers may also opt to request for a Certification of Eligibility (CoE) printed on CSC official letterhead (free of charge).
CSC, to quote,
The letterhead printed Certification is derived from the processing of test results issued free of charge by the CSC Examination Office through the CSC Regional/Field Offices.
To claim the certification, passers must present a valid ID and Application receipt or CSC official receipt (if applicable). Here's the list of valid IDs:
Driver's License/Temporary Driver's License (LTO O.R. must be presented together with old Driver's License; O.R. alone is not allowed)/Student Driver's Permit;
Passport;
PRC License;
SSS I.D.;
GSIS I.D. (UMID);
Voter's I.D./Voter's Certification;
BIR/Taxpayer's I.D. (ATM type/TIN card type with picture);
PhilHealth I.D. (must have the bearer's name, clear picture, signature and PhilHealth number);
Company/Office I.D.;
School I.D.;
Police Clearance/Police Clearance Certificate (with picture);
Postal I.D.;
Barangay I.D.;
NBI Clearance;
Seaman's Book;
HDMF Transaction Card;
PWD I.D.;
Solo Parent I.D.;
Senior Citizen's I.D.;
Alien Certificate of Registration Identity Card (ACR I-CARD)
CSC reminded all passers that the CoE must be personally claimed by CSE passers as representatives are not allowed.
In certain instances that the passers have moved to another region, or remote areas within the region, they may personally claim their CoE at the CSC Regional or Field Office (serving as conduit CSC Regional Office/ Field Office) nearest their present place or residence of work.
A written request must be filed to claim the CoE in certain instances that they moved to another region, to quote,
For those who have moved to or are based in another region, a written request must be sent to the authorized CSC RO (with jurisdiction over the testing center/venue where they took the examination) to forward their Certification of Eligibility to the conduit CSC Regional/Field Office where they would like to claim the same. In their written request, they must also cite their reasons for the request.
The official lists of passers were released by the Civil Service Commission within sixty (60) days after the administration of exams. The eligibility exams for professional and subprofessional levels were conducted on August 17, 2022 at designated regional testing locations nationwide.
2022 CSE-PPT Schedule
The CSE-PPT for the year 2022 will be held on March 2022, July 2022 and August 2022. Here are the details of applications:
Date of Exam
Start of Application
Deadline of Application
March 13, 2022
(also includes the reset of July 18, 2021 CSE-PPT)
January 12, 2022
January 27, 2022
June 19, 2022
April 12, 2022
April 28, 2022
August 7, 2022
June 2, 2022
June 16, 2022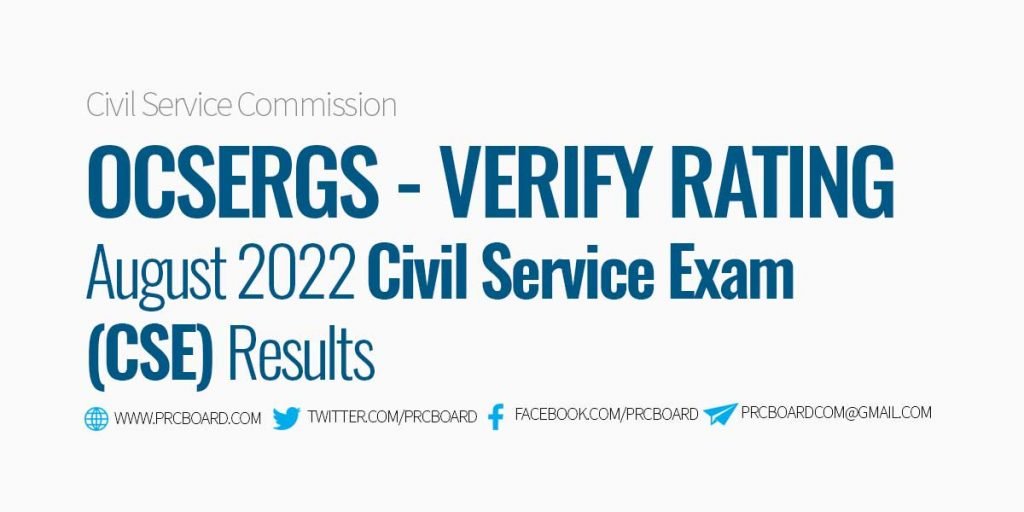 Updates
To receive regular updates about August 2022 Civil Service Exam results as well as other related announcements, we advise our visitors to bookmark this page, visit CSC official website, follow us at our social media pages via Facebook and Twitter or join the members discussions at our Facebook Group.
If you have comments/reactions about this article, feel free to share it at the comment section below.